About the D.Scott Rogo Award
The Rogo award in the amount of $500 has been recast to include not only literature but also other media such as documentary film, television programming, podcasts and vlogs etc. The award will be granted as warranted so applications are accepted year round. A synopsis or treatment to be submitted along with representative media samples as well as the applicant's CV and any relevant materials and references. Upon completion, a copy of the book or film or other media will be donated to the Eileen J. Garrett Library.
The Rogo Award was established in honor of the generosity of the late D. Scott Rogo, parapsychologist and prolific writer.
Dr. Christine Simmonds-Moore Receives The Sixteenth Annual
D. Scott Rogo Award for Parapsychological Literature!!!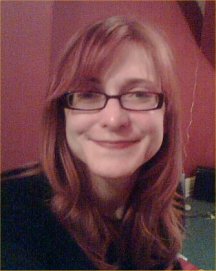 The sixteenth winner of the D. Scott Rogo Award for Parapsychological Literature is Dr. Christine Simmonds-Moore, a Lecturer in Psychology and Parapsychology at Liverpool Hope University in England where she is an active member of the Parapsychology Research Group. Dr. Simmonds-Moore was also the 2004 Frances P. Bolton Fellow. At Liverpool Hope, Dr. Simmonds-Moore co-teaches a variety of psychology courses, including a year-long final-year undergraduate course on "perspectives on anomalous experiences." She is also currently co-supervising a Ph.D. student whose dissertation topic is related to parapsychology.
In addition to teaching, Dr. Simmonds-Moore is also involved in a collaborative Fundação Bial-funded research project with Nicola Holt of the Universities of Northampton and York which addresses ESP from a cognitive perspective, that is, treating psi as the unattended stimulus. Simmonds-Moore has also just completed a project on gender roles and ESP as well as a project on Virtual Reality and ESP with colleagues at the University of Manchester. A considerable portion of the research Dr. Simmonds-Moore has conducted, including her Ph.D. project, has focused on personality, altered states of consciousness, and anomalous experiences, and, in particular, on the personality construct of schizotypy and such related variables as transliminality and boundary thinness.
Dr. Simmonds-Moore plans to use the D. Scott Rogo Award to support the writing of a book on these topics entitled, Psychic Personality: An Exploration of Individual Differences and Anomalous Experiences. Structured in two halves, the first half of Psychic Personality will look at the relationship between personality types and a range of anomalous experiences. Both normal and paranormal explanations of the experiences and their personality correlates will be examined. For example, Psychic Personality will explore pseudo-psychic experiences, hallucinatory experiences, extra-sensory and psychokinetic experiences, and how such personality variables (creativity among them) relate to genius and exceptional human experiences. The second half of the book will address the reasons for, and implications of, the relationships between anomalous phenomena and personality, taking into account psychophysiology, psychopathology, and the possible evolutionary significance of the relationship. Dr. Simmonds-Moore will take an open-minded but skeptical perspective, weighing the evidence for different explanations of each experience.
CONGRATULATIONS DR. SIMMONDS-MOORE!!!