Library
Archives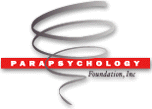 On June 5, 2000, the New York Times had this to say about the Eileen J. Garrett Research Library
"The Eileen J. Garrett Library of the Parapsychology Foundation … is stocked with more than 10,000 volumes on matters ranging from ghosts and poltergeists, psychic spies and healing research to spiritualism. It is a place where just about any assumption might be contemplated, and where psychic phenomena are accorded the respect that they have yet to receive in the material world beyond the tastefully appointed brownstone on East 71st Street."
The facility on 71st Street was sold in the spring of 2004 and the Eileen J. Garrett Research Library reopened on Sunday, April 30th, 2006 in its new facility at 308 Front Street in the picturesque oceanside town of Greenport, Long Island. (Click here for directions to the library.)
The Library is open by appointment only. Call the office in New York City at 212-628-1550 or email office@parapsychology.org for more information.
The library is a read-in library only; the collection does not circulate. Details of the archival holdings are available from the library staff. Patrons will find that the archives of the Eileen J. Garrett Research Library are a treasure trove of materials. As always patrons will only able to access the archives with library staff assistance as many of the materials in the archive are truly priceless in the sense that, oftentimes, they can never be replaced.
For more information, write to us at our postal address listed below or send an email to office@parapsychology.org.