Catalog of Bibliographies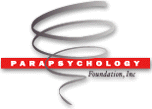 PF Bibliographies are pages in the Lyceum Library section of the PF's educational website, http://www.pflyceum.org/. When printing out pages from any of the PF websites, it is best to set-up your page orientation to "landscape" before printing. That way, you won't miss out on any of the text that shows on the screen.
Items on the Bibliographies that are in the Eileen J. Garrett Research Library in Greenport, New York, will have our library call numbers after the titles in bold print. Items that are available for sale in our on-line store, http://www.psi-mart.com, will have a click through after the reference.
If you are interested in any topic you don't see on the list below, don't hesitate to send us an email at office@parapsychology.org and we'll try to recommend reading.
Scroll down and get ready to read!