2017
On April 30th 2017, Walter Meyer zu Erpen presented his updated lecture with additional overview of global phenomena "Do Tables Tilt, Turn and Float Table Levitation." Perspectives Lecture #53.
2016
On August 11th, 2016, Dr. Stanley Krippner, well-known psychologist and parapsychology, and faculty at Saybrook University in Oakland, California, gave a talk at the Morbid Anatomy Museum in Brooklyn, New York. Styled as the Parapsychology Foundation 65th Anniversary Perspectives Lecture, the talk was introduced by Lisette Coly, President of the Parapsychology Foundation, and was called "Dreams from Another Dimension." Perspectives Lecture #52.
Available now on YouTube.
2012
On February 22nd, 2012, Andrea Fodor Litkei, Author, poet, artist, musician, and daughter of the well-known psychical researcher, journalist and psychoanalyst, Dr. Nandor Fodor, gave a talk about her father's life and work called "A Common Ground." The Perspectives Lecture was given at New York Open Center in Manhattan. Ms. Litkei was introduced by long-time author, psychologist, parapsychologist and theoretician, Dr. Lawrence Leshan. Perspectives Lecture #51.
2010
On February 16th, 2016, at the New York Open Center in Manhattan, Walter Meyer zu Erpen, archivest, President of the Survival Institute of Canada, and PF International Affiliate for Canada gave a talk called "Ectoplasm: Mythi or Reality." Mr zu Erpen's talk centered on the séance room experiments conducted by Dr. Glen T. Hamilton in Winnipeg, Manitoba from 1928 through 1934. Extensively photographed and documented, the series of seances was discussed in detail. Perspectives Lecture #50.
2009
On Thursday, October 29th, 2009, at the New York Open Center in Manhattan, Michael Jawer, the 2005 D. Scott Rogo Award Winner, gave a PF Perspectives Lecture on his book with Dr. Mark Micozzi, The Spiritual Anatomy of Emotion. In research published in theJournal of the Society for Psychical Research, Explore and elsewhere, Jawer has charted the relationship between emotion and environmental sensitivities and psychic experiences, especially apparitional and involuntary out-of-body experiences. Perspectives Lecture #49.
On June 4th, 2009, at the Baruch College Newman Conference Center, Dr. Lawrence LeShan launched his new books, New Science of the Paranormal and the Parapsychology Foundation launched the Helix Press reprint of Allan Angoff's biography Eileen Garrett and the World Beyond the Senses. Perspectives Lecture #48.
On March 13th, 2009, Stacy Horn, launched her book Unbelievable: Investigations into Ghosts, Poltergeists, Telepathy and Other Unseen Phenomena from the Duke Parapsychology Laboratory, at a Parapsychology Foundation Perspectives Lecture held at the Tea Room Center in lower Manhattan. After many, many months of research that included conversations with many of the main players in and around the field of scientific parapsychology, not to mention months of combing through the extensive Duke archives on the Rhine laboratory and other major scientists in the field, Stacy Horn put together an excellent book that presents the varied work of the Laboratory from the late 1920s to the mid-1960s. Stacy Horn's Blog for Unbelievable presents a wealth of information, both presenting the book and extending its content. To read her blog, click here. The PF is proud to have helped in the research process of this very readable and fascinating book! Perspectives Lecture #47.
2007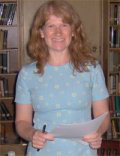 On Wednesday, July 25th, 2007 the Foundation hosted an illustrated Perspectives Lecture by Irish visual artist, and now PF Film ArchivistSusan MacWilliam entitled "Explaining Magic to Mercer." MacWilliam was the Visiting Scholar/Artist in Residence at the Eileen J. Garrett Library in July. While at the Library, she researched and developed work about the Irish medium and founder of the Parapsychology Foundation, Eileen J Garrett. (The photo to the right is Ms. MacWilliam preparing for her lecture.) For more information on her work, go to Ms. MacWilliam's website, http://www.susanmacwilliam.com. Perspectives Lecture #46.
2006
Family Influences on Psychic Awareness. On November 16th at the Newman Conference Center at Baruch College in New York City, Prof. Sylvia Hart Wright gave her second lecture in the Foundation's Perspectives Lecture Series. Although NYC meteoroligists were predicting an early snow, a good number of individuals joined Foundation staff to listen to the lecture. Working on a new book, Hart Wright has interviewed more than 100 psychics about family attitudes towards their abilities and the presence or absence of other seemingly psychic family members. After the lecture Hart Wright signed copies of her already-published book,When Spirits Come Calling, available on the Foundation's on-line store by clicking here. Perspectives Lecture #45.
"Spiritism, Mediums and Mediumship in Brazil from 1900 to the Present." Visiting the Foundation at the end of his post-doctoral stay at Duke University's Center for Spirtiuality, Theology and Medicine, Brazilian psychiatrist Alexander Moreira de Almeida reviewed mediumship in Brazil and its connection to Kardecian spiritism from the turn of the 20th century to the present. Dr. Moreira de Almeida who has both a PhD and an MD wrote his PhD dissertation on Brazilian mediumship covering not only its history but the mental health of its modern practitioners. His talk, given in mid-July at the Eileen Garrett Library in Greenport, New York, was well-attended. Perspectives Lecture #44.
"Do Tables Tilt, Turn and Float? Table Levitation Phenomena, 1850–2006?" In his talks, one delivered in NYC and one at the Foundation's Eileen J. Garrett Library in Greenport, Walter Meyer zu Erpen, historian, archivist and member of the Survival Research Institute of Canada, outlined the history of table leviation phenomena from 1850. He focused on: the experiments of psychical researchers who worked with physical mediums Eusapia Palladino and Jack Webber, among others; table phenomena in sitter groups including but not limited to those conducted by W. J. Crawford, Dr. T. Glen Hamilton, and Kenneth J. Batcheldor; and modern phenomena such as the levitation of a 65-pound table from the hands of the Thurmond Group in upstate New York in 1975. Since 1998, Meyer zu Erpen has participated in a Canadian Spiritualist study group that has observed, in good light, strong psychokinetic table movements, including lifting, rocking, and pivoting of a square, 21-pound table. His talk was well-attended in both venues and included still photography and video, drawing on his personal experience of more than 130 sessions in a closed, home circle. Perspectives Lecture #43.
"True Tales of Ghosts and Hauntings." In his talks, one delivered in NYC and one at the Foundation's Eileen J. Garrett Library in Greenport, Loyd Auerbach presented some of his best cases from over twenty years in the field. In addition to research conducted on the U.S.S. Hornet, at the Moss Beach Distillery in California, and elsewhere, Auerbach reviewed methods of investigations and various "Dos" and "Don'ts" for ghost-hunters. Well-attended in both locations, Auerbach's lecture included photographs and video clips from his case files. Perspectives Lecture #42.
2005
"Mediums: A Media Sensation for 150 Years." In her talk, Barbara Weisberg, the author of Talking to the Dead: Kate and Maggie Fox and the Rise of American Spiritualism, discussed the history of mediuship and launched the paperback version of her book. Weisberg received the 1998 D. Scott Rogo Award for Parapsychological Literature from the Parapsychology Foundation to help support the writing of her book. She is also a published poet and former television producer whose credits range from situation comedies to documentaries. She lives with her husband and step children in New York City. Like the Rhine and Schmicker talk, Weisberg's lecture was nearly sold-out. Perspectives Lecture #41.
"The Gift: ESP—The Extraordinary Experiences of Ordinary People." In their talk, Dr. Sally Rhine Feather and Michael Schmicker focused on the seemingly precognitive, telepathic, and clairvoyant tales Dr. Feather has collected over the years, including a number of experiences related to 9/11. Dr. Feather is a clinical and experimental psychologist who is also the Director of the Rhine Research Center in Durham, North Carolina, the successor to the Parapsychology Laboratory founded in the late 1930s at Duke University by her parents, Drs. J. B. and L. E. Rhine. (The Rhine Research Center has not been affiliated with Duke since 1963.) Feather's and Schmicker's new book, with the same title as their lecture, was recently released. Although this was Dr. Feather's first book, her co-author Michael Schmicker also wrote Best Evidence: An Investigative Reporter's Three-Year Quest to Uncover the Best Scientific Evidence for ESP, Psychokinesis, Mental Healing, Ghosts and Poltergeists, Dowsing, Mediums, Near Death Experiences, Reincarnation, and Other Impossible Phenomena That Refuse to Disappear, now in its second edition. Perspectives Lecture #40.
2004
"Running from Poltergeists: The Curious Story of Tina Resch." Dr. William G. Roll, long-time psi researcher with a specialty in field investigations, and author of the new book, Unleashed, presented a talk in November of 2004 at the New York Academy of Sciences under the aegis of the Parapsychology Foundation's Perspectives Lecture Series. The talk focused on the fascinating case and stormy life of the focus child in a famous case Roll investigated in the 1980s. Roll, an Oxford-educated parapsychologist at the State University of West Georgia, has written four books and more than 200 scientific articles. He has also appeared on many TV documentaries over the years, among themUnsolved Mysteries and Sitings. Check back for more information. Perspectives Lecture #39.
2003
"Sensing Contact with the Dead: A Common Experience." Professor Sylvia Hart Wright, afterlife researcher and the author ofWhen Spirits Come Calling: The Open-Minded Skeptic's Guide to After-Death Contacts, presented the talk. She became interested in studying the afterlife after she was widowed in 1983, when she claimed to begin sensing the presence of her late husband. Her talk included a number of the experiences she has collected over the years. A lively question and answer period followed the talk. Professor Wright formerly headed the library at the City University of New York's School of Architecture and Environmental Studies and left her position at the City University of New York in 1991 to devote herself full time to afterlife research. Perspectives Lecture #38.
"Studying Physiological Coherence Between Alternative Healers and Patients." Dr. Steven Baumann, Adjunct Associate Professor of Electrical Engineering at Duke University and Visiting Research Associate at the Rhine Research Center in Durham, North Carolina, outlined research on healing which he has designed and which is underway at Duke University. Dr. Baumann, who has had a long-time interest in scientific parapsychology, has performed numerous studies on brain function using electroencephalographic (EEG) and magnetic resonance (MRI) imagining. Perspectives Lecture #37.
"Patterns Where There Should Be None: A Glimpse of Global Consciousness." Dr. Roger D. Nelson, the director of the Global Consciousness Project established in 1998, discusses the goals of the project and reviews the results. Four years of accumulated date show a persistent pattern that is subtle but real. He argues that when we are collectively engaged by powerful events, the GCP's network of micro-PK detectors responds with a tiny correlation, producing an effect that has millions to one odds against it being purely a coincidence. For Dr. Nelson this means that the human population of the planet are becoming a "noosphere", a layer of intelligence for the earth. Dr. Nelson's provocative talk flows from his 22 years of experience at Princeton University's PEAR Lab where he developed ways to study conscousness fields in real-world situations. A lively question and answer period completes the lecture. Perspectives Lecture #36.
Available now on YouTube.
2002
"Varieties of Anomalous Experience." Psychologist Etzel Cardeña outlined the varieties of anomalous experience covered in a book he and colleagues edited by the same name. Among these were out-of-body experiences, near-death experiences, hallucinations, synesthesia, lucid dreams, reincarnation, healing experiences and others. Cardeña talked about the importance of studying such anomalies and what they can teach us about the mind and human experience. Perspectives Lecture #35.
Available now on YouTube.
"ESP and Emotions: A New Perspective on How We Use our Extrasensory Perception Researchers" have long thought that emotions play an important role in extrasensory perception but just what that role is may be very different from what anyone imagined. Recent conventional neuropsychological research on emotions and their underlying brain systems reveals them to be a vital component of our rational decision-making processes, especially when those decisions concern our own future. With this research as a background, Dr. Richard S. Broughton reviews both spontaneous psychic experiences and experimental research to show how the new understanding of the brain's emotional systems may provide a framework for understanding how ESP and intuition shape our behavior. Perspectives Lecture #34.
Available now on YouTube.
"Parapsychology in the Twenty-First Century." Eminent parapsychologist Professor Robert L. Morris, Koestler Professor of Parapsychology in the Department of Psychology at the University of Edinburgh in Scotland, presents a survey of parapsychological research in a variety of contrasting cultures, in the light of increased academic interest in parapsychology within local cultural traditions. Perspectives Lecture #33.
"What Scientists are Learning about Intuition." Dr. Rex Stanford, Department of Psychology at St. John's University, addresses the fascinating topic of intuition, from the perspective of a wider context of cognitive psychology and various theories of "adaptive response". Perspective Lecture #32.
2001
"Dueling Psychics: Edgar Cayce and Eileen J. Garrett." A stimulating talk by Sidney Kirkpatrick—author ofEdgar Cayce, An American Prophet—on Cayce and Eileen Garrett, the other great psychic of the 20th century, and founder of Parapsychology Foundation. The title refers to readings they once gave for each other—monitored trance sessions on Staten Island in 1934. Perspectives Lecture #31. This lecture is available on the Parapsychology Foundation YouTube Channel in the "Classic Perspectives Lectures" playlist.
Available now on YouTube.
"Taking Spirit Seriously." Noted parapsychologist and transpersonal psychologist Charles T. Tart, presents a lively overview of the last thirty years of parapsychological research. Perspectives Lecture #30, given as a special lecture, held at the conclusion of the 2001 Parapsychology Association Annual Meeting in New York City. This video is available on the Parapsychology Foundation YouTube Channel in the "Classic Perspectives Lectures" playlist.
Available now on YouTube.
"Mind, Machines, and Anomalies." Dr Arnold Lettieri, Communications Director for the prestigious Princeton Engineering Anomalies Laboratory (PEAR), gives an overview of the laboratory's work, and answers questions from the audience on psychokinesis, psychokinetic research, and mind-machine interaction. Perspectives Lecture #29.
"Could the Merchant House Be Haunted?" Dr. Carlos Alvarado, chairman of International and Domestic Programs at the Parapsychology Foundation, examines, on-site, the history and reports of ghostly phenomena at New York City's allegedly haunted Merchant House Museum. A question-and-answer session with the standing-room-only audience follows the lecture. Perspectives Lecture #28. This video is available on the Parapsychology Foundation YouTube Channel in the "Classic Perspectives Lectures" playlist.
Available now on YouTube.
"Parapsychology in the Talmud." Dr. Sam Spero, mathematician, teacher and Jewish scholar, lectures on parapsychological phenomena as they appear in the Jewish sacred book, the Talmud. A unique introduction to a fascinating area of research. Perspectives Lecture #27.
"Creativity and ESP." Dr. Kathy Dalton, experimenter, and board member of the Parapsychology Association, speaks on her research with creativity and ESP, and "…how both of these share similar characteristics and attributes and similar mind-states…", reporting on her own and others' lab research, particularly focusing on "Ganzfield" techniques. Perspectives Lecture #26.
Available now on YouTube.
"Parapsychology in Brazil: At the Limits of Science and Religion." Fatima Regina Machado, co-director of the Center for the Study of Semiotics, Interconnectivity and Consciousness, discusses the history and practice of parapsychology in Brazil, presenting both the religious and cultural contexts. Perspectives Lecture #25.
2000
"Ghosts, Electromagnetics, and Altered States." Dr. Andrew Nichols, field research investigator for the American Institute of Parapsychology, discusses hauntings and haunted houses from the perspective of geomagnetic activity and the scientific measurement of these anomalous fields. Perspectives Lecture #24.
"Are Children Very Psychic? Research and Spontaneous Cases." Drs. Athena A. Drewes and Sally Ann Drucker, authors of Parapsychological Research with Children: An Annotated Bibliography, present a lively review of their work in this field, including the "M & M candy ESP experiment". Perspectives Lecture #23.
Available now on YouTube,
"Visitation Dreams." Rosemarie Ellen Guiley, author of The Encyclopedia of Dreams and many other popular works on spirituality and exceptional human experience, speaks on dreams that seem to involve apparitions of the dead, which she calls "visitation dreams". Perspectives Lecture #22.
"Parapsychology and the Re-enchantment of the World." Michael Grosso, author, philosopher and cultural anthropologist, speaks on the notion of a necessary "re-enchantment", and the role of parapsychology in this re-invigorated world view. Perspectives Lecture #21.
"The Houdini Code Mystery: A Spirit Secret Solved." Did psychic Arthur Ford really uncover the secret code left by the great magician Houdini to his wife, purported to be a test of clairvoyant power and existence beyond the grave? Canon William V. Rauscher, an authority on both Spiritualism and stage magic presents the result of his findings concerning the code mystery. Perspectives Lecture #20. This video is available on the Parapsychology Foundation YouTube Channel in the "Classic Perspectives Lecture" playlist.
Available now on YouTube,
"The Effect of Criticism: Skeptics, Parapsychologists and Experiencers." Nancy Zingrone, parapsychologist and doctoral student in psychology under Dr. Robert Morris at the University of Edinburgh's Koestler Parapsychology program, discusses parapsychology and its critics, and takes audience members' questions. Perspectives Lecture #19.
"Paranormal Experiences Triggered by Medical Conditions: Implications for the Field of Parapsychology." Dr. Madelaine Lawrence discusses her research with hospital patients, particularly the terminally ill, and remarks on her clinical study of out-of-body-experience. Perspectives Lecture #18.
"Out-of-Body Experiences." Well-known parapsychology scholar and historian, Carlos S. Alvarado, presents an overview of his research specialty, the out-of-body-experience. Dr Alvarado is chairman of International and Domestic Programs at the Parapsychology Foundation. Perspectives Lecture #17.
"Gypsy Fortune Telling and Hag Riding: The Anthropology of Psi." Cultural anthropologist and psychic consultant, Elliot Madison, discourses on two of his areas of expertise—"gypsy" (Roma) fortune-telling beliefs, and "hag-riding" (night visitation fears) within the context of an anthropological understanding of the function of psi. Perspectives Lecture #16.
1999
"In Sync: Identifying Daily Synchronicity." Stage magician Ben Robinson presents an autobiographical and anecdotal account of his experiences and understanding of the phenomenon of Jungian synchronicity. Perspectives Lecture #15.
"Classification: The Fundamental Question of the Paranormal." Maverick parapsychologist and cultural gadfly, George P. Hansen, utilizes anthropology, sociology, semiotics, and recent "deconstructive" cultural theory in this provocative lecture challenging the fundamental methodology of classification. Perspectives Lecture #14.
"Remote Viewing: A Martial Art for the Mind." Government-trained "remote viewer", Paul H. Smith, gives an introductory talk about the history and nature of this recently-discovered, recently-declassified skill. Audience members are given the chance to test their own remote viewing capabilities. Smith answers questions regarding specifics of his training and its socio-historical context. Perspectives Lecture #13.
Available now on YouTube.
"The Science of Psychical Research." Esteemed psychologist and parapsychologist Dr. Lawrence LeShan speaks on methodology of psi research. Drawing on Dr. Jan Ehrenwald's distinctions between "flaw-determined" and "need-determined" experiences, LeShan proposes a methodological framework for an overall functioning of the discipline.
"What Do We Really Know?" A lively, witty discursive talk by journalist, author and editor, Martin Ebon. With over 80 years of life experience, he addresses the fundamental question in science: What do we really know? Perspectives Lecture #11.
"The Fear of Psi." In a provocative polemic, Dr. Stephen E. Braude, noted author, philosopher and parapsychologist, discusses how the rationalist's "fear of psi" defines and delimits parapsychology. Perspectives Lecture #10.
Available now on YouTube.
"Parapsychological Interpretations of Religious Experience." Scholar, teacher and doctoral student of theology, Lisa Schwebel, discusses the interface between parapsychology and religion, particularly regarding so-called Christian miracles. Perspectives Lecture #9.
"The Healing Pump." In celebration of the publication of Afterwards You're A Genius: Faith, Medicine and the Metaphysics of Healing, author and journalist Chip Brown discusses the role of the heart in its dual context as organ of love and organ of life. Perspectives Lecture #8.
"Survival of Death." The popular author and celebrated ghost-hunter, Dr. Hans Holzer, offers his evidence for survival of death … A provocative talk based on his own personal collection of paranormal photographs and his deeply-held convictions about the transcendence/continuation of spirit. Perspectives Lecture #7.
1998
"Psi and Dissociation." The eminent parapsychologist and leading researcher/teacher in the field of consciousness studies, Dr. Stanley Krippner, addresses the central issue of dissociation upon publication of his book, Dissociative Narratives in Clinical Practice (written in collaboration with Susan Marie Powers. Perspectives Lecture #6.
"Spirit Art of the 19th Century." In celebration of the 150th anniversary of Spiritualism, author John Patrick Deveney discusses the fascinating and hitherto unexplored subject of "sprit painting" and "spirit art". In addition, author Barbara Weisberg provides an illuminating overview of the field. Perspectives Lecture #5.
"The Bindelof Material: Séance Phenomena in the 1930s." Half a century later, two of the surviving participants in an extraordinary group experiment in psychical research, eminent psychologist Dr. Montague Ullman and his colleague Gilbert Roller, look back and discuss their experiences — two years of carefully documented séance activity — in a lively exchange. Perspectives Lecture #4.
"Shopping for Miracles. "Caveat emptor". (Let the Buyer Beware!)" Parapsychological researcher Dr. Joanne D. S. McMahon, and criminal lawyer Anna M. Lascurain collaborate in an informative "how to": The do's and don'ts of of looking for — and making contact with — a psychic. Perspectives Lecture #3.
"Doorways to Higher Consciousness." Author, editor and "trance-medium", Dr. Alan Vaughan, speaks on the faculty of intuition, gives a demonstration of "trance-mediumship", and takes questions from the audience. Perspectives Lecture #2.
"Psychic Connections." Leading "ghost researcher" and poltergeist expert, Dr. William G. Roll, discusses some notable cases with which he has been involved, and speculates as to the nature of the phenomena he has encountered. Perspectives Lecture #1
Available now on YouTube.