Charles T. and Judith A.Tart
Award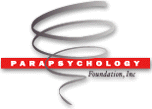 The Charles T. and Judith A. Tart Student Incentive Award
Thanks once again to the generosity of Dr. and Mrs. Tart this annual award of $500 returns. This award is for a student who demonstrates a strong commitment to work within parapsychology. Esteemed parapsychologist, Dr. Charles T. Tart, in memorializing his first grant in parapsychology  given to him by PF's founder, Mrs. Eileen J. Garrett  while a student at MIT, wishes to provide similar encouragement to a new student in providing funding for a first experiment. Applications will be taken until  September 1st, 2017 and awarded October 1st, 2007.
The 2008 recipient of the Tart Incentive Award is Luis Espinoza Paul, a post-graduate student at the Universidad Peruana Cayetano Heredia (UPCH) in Lima, Peru. To read more about Mr. Espinoza Paul's project, click the "About the Award" button above.
Should the award be reinstated application information will be available by clicking on the "Application" button above.